Become Informed
The role of advocacy and public policy are critical in moving New Hampshire's oral health issues to the front line so that the people of New Hampshire are able to engage in and access an effective health system that includes integrated and comprehensive services. Staying informed on significant federal and state legislation related to oral health and its link to overall health, offers opportunities to partner with a variety of public and private stakeholders who share common concerns about the overall health of New Hampshire's citizens.
The NHOHC tracks bills of policy priorities: 2017
Click  for NH Oral Health Coalition's policy procedure: TBD
Contact your Legislator
Follow this link to locate your legislator: Find your legislator
Policy Priorities
There is a clear need to build constituencies concerned and committed to improving New Hampshire's oral health—
Below are platform statements created by the NH Oral Health Coalition Public Policy Committee, and given by the Public Policy Director. Supporting and shaping public policy to recognize the importance of oral health care as part of overall health is critical to the well being of New Hampshire's citizens.
Coalition Overview and Policy Priorities 2016-2017
Testimony
Advocacy in Action
On Wednesday, January 18, 2017,  the New Hampshire Oral Health Coalition hosted the The Governor and Executive Council breakfast meeting at the Holiday Inn in Concord.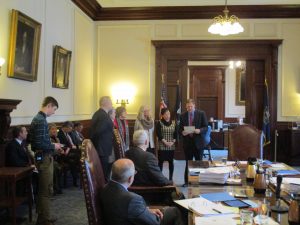 Later in the Executive Council Chamber, Governor Sununu presented the New Hampshire Oral Health Coalition with a Citation in recognition of 15 years of service to the citizens of New Hampshire.
Governor Lynch Signs SB284, Expanding Public Health Dental Hygiene Services into the Community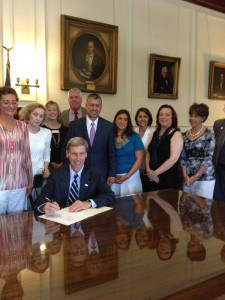 On July 20, with a broad representation of oral health advocates, Governor John Lynch signed SB284 – a bill creating a certified public health dental hygienist with expanded duties. Senator Gary Lambert, prime sponsor for the bill, thanked the Governor for his support and actions in advancing oral health access within our state.
Kyle Messier, hygienist and program manager for the Sullivan County Dental Initiative, a front line oral health provider and advocate for SB284, stated, "The bill is simple, the bill is clear…and it is a very important step tomeeting the challenges of improving access to oral health services for the citizens of NH, especially to those most vulnerable."
SB284 allows certified public health dental hygienists working in schools, hospitals, and other public, non-office settings to perform dental X-rays, provide nutritional counseling, and place temporary fillings in teeth. This type of filling is a non-surgical and reversible way to prevent decay from progressing in children, teens, and people with special health care needs until a traditional filling can be placed.
Messier was joined by colleague, Hope Saltmarsh, executive director at the Greater Derry Health Collaborative, who said "Dental hygienists are prevention specialists who can be part of the solution to… [access] …by bringing more services to community settings like schools, WIC clinics, Head Start, programs for those with special needs, senior centers, nursing homes, and directly to those who are home-bound."
The Governor's signing was the culmination of over a year of collaboration by oral health providers, advocates and funders within the state of New Hampshire.
NHOHC policy director, Gail T. Brown, attended the signing and was honored to introduce Ms. Messier and to thank the broad spectrum of advocates at the signing. "Our thanks to all who helped to take this next step forward in advancing oral health in NH."  She adds, "This bill further moves dental and oral health prevention out of the office chair and into the realm of the patient."
2009 House Bill #414 signing ceremony
Angela Boyle, former NH Oral Health Coalition Director, recognizes Governor Lynch, NH Legislators, and community partners for their work to improve oral health in NH.