NH House Representative Rich DiPentima is named the NH Oral Health Coalition's 2010 Oral Health Champion of the Year.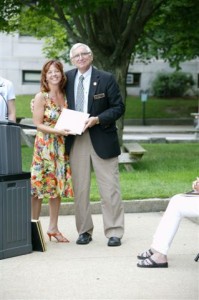 The integration of oral health and primary care has become a high priority for the NH Oral Health Coalition and naturally an area that would merit a leading role in improved oral health public policy.
In 2009, the Oral Health Coalition participated on House Bill #414 Study Commission which examined ways to prevent dental disease among NH's children. The study commission led by Rep. DiPentima made a number of recommendations. Building off last year's recommendations, Rep. DiPentima brought forward in the 2010 Legislative Session, House Bill # 1537, an act allowing primary care providers to provide preventive oral health services to children between 0 and 3 years of age under the state Medicaid program. A common practice in 35 other states, including every New England State with the exception of NH.
House Bill #1537 received strong support throughout the public hearings. Testimony was provided by more than 30 community organizations as well as NH's First Lady, Dr. Susan Lynch.
"The NH Oral Health Coalition is proud to have worked closely with Rep. DiPentima during this year's legislative session. His impressive public health experience and dedication to improving oral health in our state will ensure that NH's Children will have a healthy start to life.  We are grateful for his strong leadership in the legislature which led to the passage of House Bill #1537", said Angela Boyle, NH Oral Health Coalition Director.